Out of Margins? - seminar (webinar)

WEBINAR starts 10 am GMT, local time (Helsinki) 12 pm and ends 5pm (Helsinki)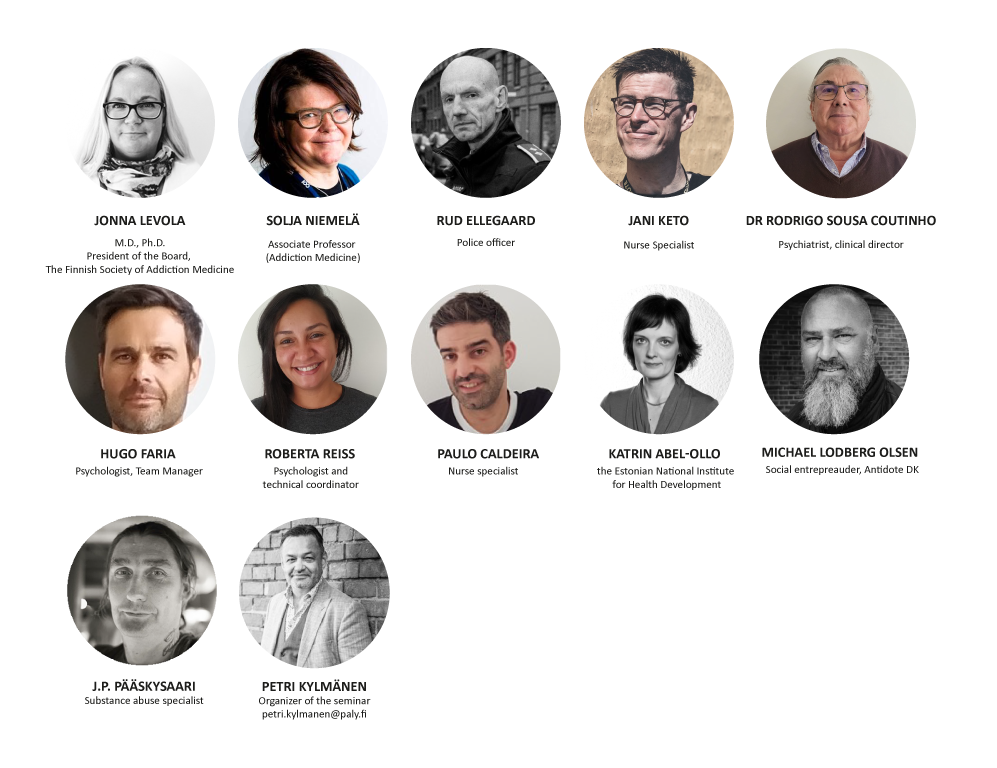 Out of Margins? -Seminar (WEBINAR) 23th May 2023 direct from Helsinki Finland

The seminar (webinar) discusses the opportunities provided by substance abuse services to reach people who are not covered by the services. In addition, the theme of what we can do to prevent drug overdose deaths will be discussed. The seminar ends with a panel discussion.
The seminar (WEBINAR) is organized in English and it is implemented as a webinar.
Implementation The Finnish Society of Addiction Medicine in cooperation with the city of Helsinki.



Registration open, free of charge.
Programme:

12.00 When Sauna and Sisu are just not enough
Jonna Levola, M.D., Ph.D., President of the Board, The Finnish Society of Addiction Medicine   
12.15  Portuguese outreach and harm-reduction innovations 
Hugo Faria, Psychologist, Team Manager 
Roberta Reiss, psychologist and technical coordinator
Paulo Caldeira, nurse specialist
Rodrigo Sousa Coutinho, Psychiatrist, clinical director

Ares do Pinhal, Lisbon  
13.15  Presentation of the drug scene down town Copenhagen and 
the collaborate with H17 by police
Rud Ellegaard, police officer    
Nurses role in supervised drug consumption room  
Jani Keto, nurse specialist
- - - TIMEOUT 25 min (ad 14.15-14.40)  
14.40  What can Finland learn from Estonia in overdose prevention?  
Katrin Abel-Ollo, the Estonian National Institute for Health Development   
15.00  NGO working to cut down overdoser deaths  
Michael Lodberg Olsen, Social entrepreauder, Antidote DK   

15.30  Anatomy of a Finnish overdose death  
Solja Niemelä, Associate Professor (Addiction Medicine),  Specialist of Psychiatry with special competence in Addiction Medicine, Group leader (Turku Psychosis and Substance use)   
16.00  Panel discussion: Why re-invent the wheel, when we can learn from each other  
Jonna Levola, M.D., Ph.D.  President of the Board, The Finnish Society of Addiction Medicine
17.00 Seminar ends
Welcome
Jonna Levola   
President of the Board   
The Finnish Society of Addition Medicine
Petri Kylmänen
Chairman of Nurses' expert group
The Finnish Society of Addition Medicine

For more information:
jonna.levola(at)paly.fi
petri.kylmanen (at) paly.fi